PluralSight Time Management
Notes from PluralSight Time Management Course.
Principles & Techniques for Effective Time Management
Four Quadrants
From The 7 Habits of Highly Effective People.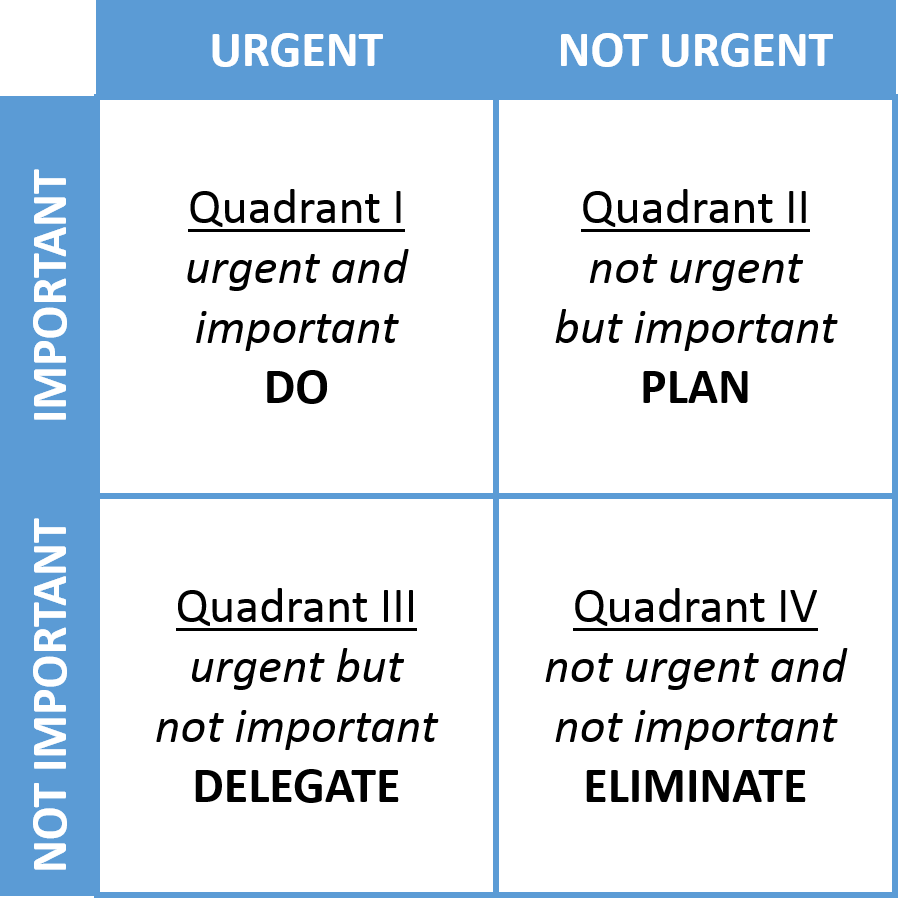 By Davidjcmorris - Own work, CC BY-SA 4.0, https://commons.wikimedia.org/w/index.php?curid=74528894
** Focus on Quadrant 2 - use whiteboard for non-urgent, important tasks.
Kolbe A Index -  what role can have in team and be more effective
P/PC Balance - production / production capability - measurement of how effective one is with time
Pareto principle - what things bring the most results?
Have learning book in bathroom !action
Goal Setting 6 Step Formula
What do you want to achieve?
What are you willing to give?
Set an exact date.
Have a clear plan.
Put it in writing
Read it aloud twice a day.
End of day GRP report (Goals Results Problems) !action
Batch tasks that take less than two minute together.
Cleaning up workspace
remove unnecessary open tabs (esp. email)
anything that is an unnecessary input (prevents Information Overload)
Decision making - not a one time event, but a process
Prepare (research)
Decide
Communicate w/ stack holders
Execute
Measure
Bias
Must be aware of common ones, including:
Recency
Sunk cost
Look for data that supports our view
Think we are better at decision making than others
Meetings
Purpose - why?
People - who?
Format - what?
Management of self
hero in own movie
negotiate with self
** Reality Map - All lasting constructive change in human behavior starts on the inside with a changed imaged of reality.